Community Supported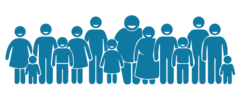 When you reserve your share, you become part of a community that cares about the future of food – from the moment it's harvested to the point it's on your plate. We are building a community-supported food system that connects you to seafood, harvested in sustainably-managed, wild fisheries.
Sustainability Is Everything
Did you know 91% of seafood consumed in the United States is imported from overseas? Why aren't we eating our own locally-sourced, natural, nutritionally-dense seafood?
Alaska has established the gold standard of seafood sustainability. In fact, Alaska's constitution mandates that the state's wild fisheries be managed on the sustainable yield principle. We pride ourselves on offering only the healthiest, highest-quality, wild-caught seafood from the best managed, sustainable fisheries.
Healthy & Fun
The USDA recommends that Americans should eat at least two servings of fish per week – about 8 ounces – and that seafood should account for roughly one-fifth of all protein consumption. The average American eats less than one serving of fish per week – roughly half the global average.
We get it. Buying and cooking fish can be intimidating. But it doesn't have to be. That's why we're always striving to make it as simple as possible to help you buy confidently, cook quickly and eat healthy seafood.
Ready to Get On Board?
By reserving your monthly share, you're helping build a more sustainable food system that's better for humans and fish alike.